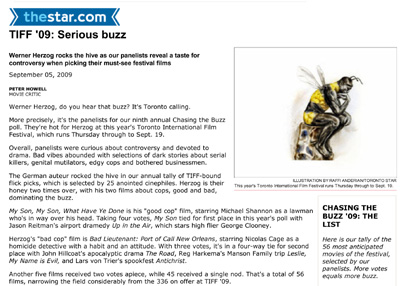 We're very happy to be invited by
Peter Howell
, movie critic for the Toronto Star, to be part of his 9th annual
Chasing the Buzz
poll —
a panel of 25 critics/programmers/film-buffs name the 3 films they are most looking forward to
.
Here are our top 3 picks:
Antichrist: "See the film that won the first anti-award from Cannes' ecumenical jury Thursday night at 9pm, then talk to director Lars von Trier, via video conference from Denmark, Friday morning at 9am."



Enter the Void: "Gaspar Noé, the stylish and audacious director of

Seul Contre Tous

and

Irréversible

, brings a cinematic trip about a low-level drug dealer and his sister... which garnered very mixed reviews."


The Hole: "Kudos to Colin Geddes for bringing the festival's first 3-D presentation with Joe Dante's new work, shot in Canada using Paradise FX — the same technology used earlier this year in the remake of the Canadian slasher,

My Bloody Valentine

."

Here is the complete list of all 56 of the most anticipated movies of the festival:
Cheers!
#TOfilmfest
PS. btw, here are the 25 contributors:
Steve Almond, Parabola.ca
Gail Anthony, film buff/executive assistant
Barry Avrich, filmmaker and ad executive
Cameron Bailey, TIFF co-director
Christopher Bales, Crunchy Squirrel Goes to Toronto
James Berardinelli, ReelViews.net
Noah Cowan, Bell Lightbox
TOfilmfest.ca — that's us! ;-)
Gabrielle Free, CTV
Alex Ganetakos, TV writer/producer
Andréa Grau, TIFF media coordinator
Piers Handling, TIFF director and CEO
Charles Johnston, writer, film buff
Robert Koehler, Variety /CinemaScope
Carla MacDonald, Our Lady of Perpetual Hell
Michèle Maheux, TIFF managing director
David Poland, MCN
B. Ruby Rich, BRubyRich

James Rocchi, RocchiReport
Kristopher Tapley, In Contention
Anne Thompson, ThompsonOnHollywood
Jeffrey Wells, Hollywood Elsewhere
Susan Wloszczyna, USA Today
Ray Yick, TIFFReviews
PPS. if you're curious about previous picks, you can also read Peter Howell's
TIFF's must-see films
from 2008, and
TIFF '07: The Buzz
from two years ago...
Labels: Buzz, Peter Howell, TIFF09, TOfilmfest, Toronto Star